Kincumba Mountain Kiosk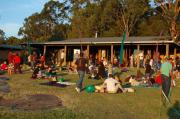 Street:

Island View Drive

ZIP:

2251

City:

Kincumber

State:

NSW

Country:
Description
Our Brackets South event takes place ontop beautiful Kincumba Mountain. The community built venue is a mud brick and natural timber building which sits in a bushland reserve, with panoramic views of Brisbane water and magnificent sunsets over the hills beyond.
This venue is the birthplace of Brackets and Jam on the Central Coast and the community considers it as it's spiritual home. The Mountain itself holds a strong significence for our Aboriginal community, and has been a long standing meeting place for Central Coast people. The rock outcrop situated infront of the kiosk forms a natural pool which is said to have once been a sacred birthing place for women.
The Mountain now gives birth to many new beginnings as the hub of creative community arts in the southern Central Coast region.