Event Reviews
| | | | |
| --- | --- | --- | --- |
| Dads Day Out - Gosford City 28 March 2010 | | | |
Saturday, 08 May 2010 12:04
A great Dads Day Out - Gosford City where about 1200 people passed through in the day with a great deal to enjoy and do. Thanks to the voluntry committee and Gosford Council for all the work and $$ support
| | | | |
| --- | --- | --- | --- |
| Youth BMX & Skate Competition - Kariong 13 April | | | |
Saturday, 08 May 2010 11:20
  G'day all.
The skate park was a great day out. B&J were well acknowledged among the list of sponsors and supporters...more than most because we had a very visible presence.
The kids were amazing not just for their participation, skill and enthusiasm in their sport but also for their extremely good "off field" conduct.
Both the staff and kids showed interst in Brackets and Jam. Both expressed an interest in having a live band at their next event. 
 
Regards. Andy


| | | | |
| --- | --- | --- | --- |
| B&J drummers rock the Markets | | | |
Wednesday, 22 April 2009 20:38
On a very sunny Sunday morning a couple of weeks ago over the Easter break, drummers from B&J and Djembeat woke up the Easter Bunny with a short, loud and syncopated set. Having rehearsed hard they must have sounded good as they have been invited back again!
The Village Markets at Mingara are held on the second Sunday of every month at the Mingara Club, Tumi Umbi and will feature the best of local, and not so local acts as well as many great stalls and other entertainment.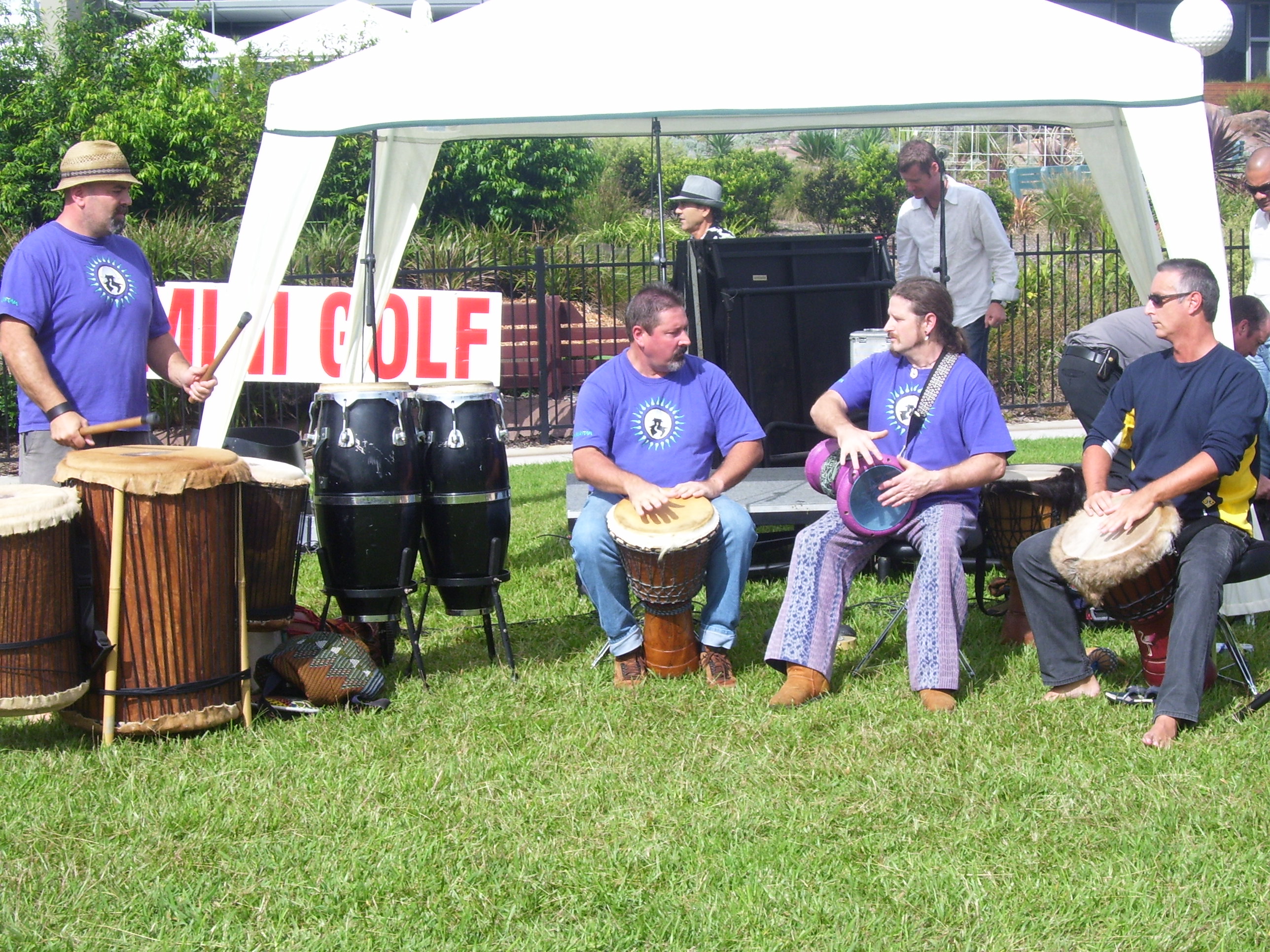 | | | | |
| --- | --- | --- | --- |
| Pape M'Baye rocks the mountain | | | |
Monday, 20 April 2009 21:47
Despite being a little tired from the previous night's B&J event a good sized group of eager students climbed the mountain last Saturday to learn from master drummer; Pape M'Baye.
Pape's intensive instruction in a rhythm from Guinea was well received and was great fun to perform. It was also great fun to watch Pape's crew of drumers accompany us on the djembe and dun duns. In fact, at one point they were so entertaining that we forgot to drum ourselves.
Pape's worskshops are great fun and I would advise anyone who is interested to take part should they have the chance.
| | | | |
| --- | --- | --- | --- |
| Brackets and jam South February 2009 | | | |
Friday, 06 March 2009 10:51
Yet another night, in a beautiful environment, and treated to an amazing array of talent amidst great friends. Thanks again to the fantastic performers who made it another special night and too all the volunteers who keep the show on the road…
Read more...
| | | | |
| --- | --- | --- | --- |
| Brackets Newcastle Inaugural Event | | | |
Friday, 06 February 2009 10:00
A beautiful and balmy evening to see in the first ever Brackets Newcastle night. The large crowd in attendance were treated to some fantastic entertainment.
A trio of talented young females started off proceedings.
Lucy Afarenz with her wistful and intricate tunes was followed by a powerful set from Jen Buxton (pictured below)  that had the audience spellbound. A bit rusty following a musical hiatus, Jen still delivered some mesmerizing songs.
Fiona Magee is rapidly developing a following in the Central Coast & Newcastle areas, and on tonight's performance its easy to see why. Some great original material, a dazzling instrumental, all delivered with a verve that belies her tender years. Fiona is also a driving force behind the Newcastle Brackets operation.
The night concluded with 2 band sets. Of the Red Sea produced a great selection of driving rock'n'roll. Tough yet melodic, the audience loved them and they have a strong following already in Newcastle for a young band.
The night concluded with one of this reviewers favourite local bands, The (Temperamental) Pocket. An outfit difficult to pigeonhole in any single genre, in fact you get the impression the band members themselves have vastly differing view's on just how to accurately describe their collective muse. Regardless they should be taken in large doses, as often as possible, as their music is both intriguing and engaging and most definitely good for the soul.
The Newcastle Brackets brains trust.
All in all a night to remember for the fledgling Brackets Newcastle crew and those lucky enough to be in attendance. Stay tuned for more Brackets Newcastle "taster" events over the coming months, and check out the News section for their "master-plan" for the area.
| | | | |
| --- | --- | --- | --- |
| Brackets South January 2009 | | | |
Friday, 09 January 2009 10:00
| | |
| --- | --- |
| One of our best nights ever featuring a fantastic 9 piece from Mauritius Club Cassiya who were a great hit with the dancers! We also had terrific performances from Chontia and her band and a surprise visit from Pape Mbaye, who treated the drummers to spectacular solos and taught the crowd some traditional Aftican dances. | |
Read more...
| | | | |
| --- | --- | --- | --- |
| Brackets and Jam North January 2009 | | | |
Saturday, 03 January 2009 10:00
With the new year barely upon us, a good crowd started off what promises to be a bumper 12 months of B&J events.
Read more...