Brackets and Jam Central Coast South July 12th 2019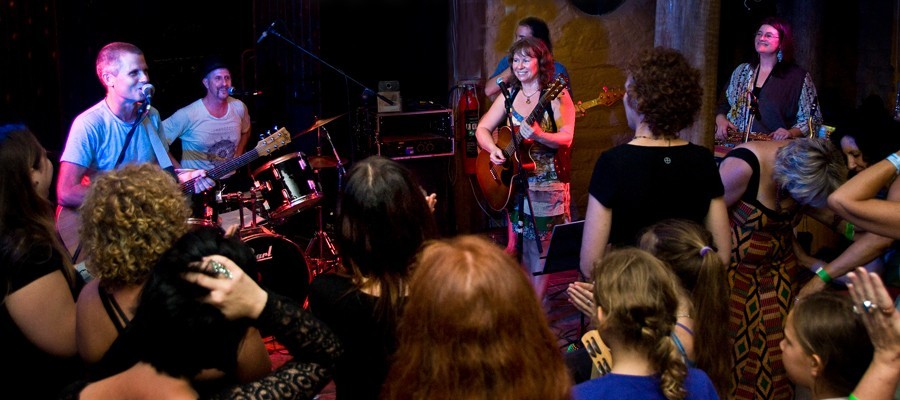 Friday, 12 July 2019 7:30
The brackets south crew proudly present another wonderful night of superb music, delicious food and friendly company on top of our beautiful Kincumba Mountain.
BYO everything or choose from another great selection of meals served by our lovely hard-working kitchen volunteers. Bring a friend, a smile, a blanket, a torch to light your way and treat yourself to what has to be the cheapest and most family friendly night out on the Coast.
Line-up for July 12th, 2019:
7:30 pm: Kaijin Solo
8:15 pm: THE McCLEANS
9:15 pm: First Drum Jam
9:30 pm: Hayley, the Wolves & the Shepherd
10:30 pm: Second Drum Jam
(House drums available for the jams!)
Kaijin Solo
Kaijin Solo is a contemporary singer/songwriter based on the NSW Central Coast with a blues rock influence.
Introducing
THE McCLEANS
Delivering powerful stories in song, with seamless harmony vocals... they are THE McCLEANS - Andy & Woodie.
Andy has known Woodie his entire life. Woodie has known Andy since he was born. No mystery here. These two are father and son, and they predate the successful Pixar movie franchise.
THE McCLEANS are a guitar/harmonicas/vocal duo who deliver not only their own original music, but selections of handpicked cover versions of great songs by great writer/pickers across a breadth of genres as wide as the night sky - James Taylor, Bob Marley, Allen Stone, Australia's brilliant Jordie Lane, Ian Moss, Warren Zevon, Keb Mo, and Kevin Welch, to name a few.
THE McCLEANS have a natural chemistry borne out of the father/son dynamic, and it'll grab your patrons by the ears... the heart... and the soul. Whether it's stadium crowds or intimate gatherings, THE MCCLEANS deliver the same powerhouse performance - strangers, family, friends, pubs or corporate crowds. It's what they do, and what they love.
2019 sees "The McCleans" back on the road... wherever it may lead them.
"This act is refreshing, big, endearing and soulful. For just two players, they deliver the goods!" - Chris Isaac
Hayley, the Wolves & the Shepherd
Collectively this toe tapping 4 piece creates an amazing folky/bluesy vibe with a hit of country soul.
Mixing a stompbox in with raw vocals along side a haunting harmonica sound a little banjalayley & two guitars.
Each singer/songwriter/musicians, in their own right spanning over two decades, now collaborating to bring new found life to forgotten covers and an unmistakable original sound of their own.
Each show bringing engagement & beautifully filling a space that has seemingly been carved out for them in the music world.
Our Brackets South event takes place on top beautiful Kincumba Mountain. The community built venue is a mud brick and natural timber building which sits in a bushland reserve, with panoramic views of Brisbane water and magnificent sunsets over the hills beyond.
This venue is the birthplace of Brackets and Jam on the Central Coast and the community considers it as it's spiritual home. The Mountain itself holds a strong significance for our Aboriginal community and has been a long-standing meeting place for Central Coast people. The rock outcrop situated in front of the kiosk forms a natural pool which is said to have once been a sacred birthing place for women. The Mountain now gives birth to many new beginnings as the hub of creative community arts in the southern Central Coast region.
Additional Information:
FINAL DRUM JAM: Stay late and see the evening out with the spirit of the dance and drum! Enjoy a little more space to dance to the powerful beat of the drum.
Adults $10.
Accompanied children under 16: Free
Meals $7 Plus healthy cakes & soft drinks, coffee, teas and chai