Brackets and Jam Central Coast South May 4th, 2018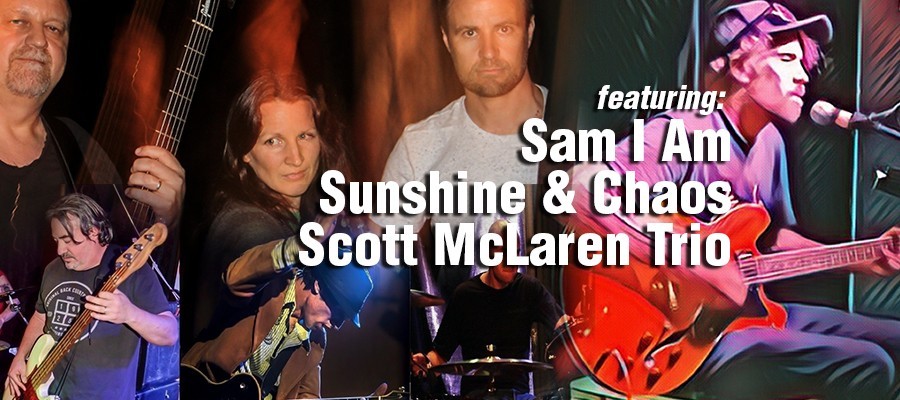 Friday, 04 May 2018 7:30
The brackets south crew proudly present another wonderful night of superb music, delicious food and friendly company on top of our beautiful Kincumba Mountain.
BYO everything or choose from another great selection of meals served by our lovely hard-working kitchen volunteers. Bring a friend, a smile, a blanket, a torch to light your way and treat yourself to what has to be the cheapest and most family-friendly night out on the Coast.
Line-up for May 4th:
7:30 pm: Sam I Am
8:00 pm: Sunshine & Chaos
9:15 pm: First Drum Jam
9:30 pm: Scott McLaren Trio
10:30 pm: Second Drum Jam
(House drums available for the jams!)
Sam I Am
A troubadour in the first degree armed with his trusty guitars and stories to tell of an adventure and journey of others and life experiences. A singer-songwriter to the core his soul is drenched with a raspy almost grungy deep southern blues sound to emotive ballads from his heart with guitar licks so original they stop you In your tracks. A style of music of his new found enthusiastic fire and a lot of now grown up stories of sitting with friends for hours just talking and learning in every form taking in information, seeing things in a new light and perspective life on older mans light
Life hasn't been easy but who's is.
Sammy Hutchin the sole creator of @ 2018 Sam IAm Music (c) has played all around Australia clocking up 350 shows including, Festivals , Gigs , Shows, Open Mics , many weddings and a lot of busking in the early days. His new songs have a bit more Blues Southern Mississippi Swamp sounds and his balls-out approach isn't going without notice. He still plays a lot of open mic nights where his soul and heart belong.
Sunshine & Chaos
Hailing from the Central Coast this folk-rock trio combine Bass, Guitar, Ukulele and some tasty harmonies.
With influences of Alt Rock and Folk, Sunshine and Chaos will entertain you with a combination of original tunes and their fave covers, including songs by Ray Lamontagne, Ryan Adams and Holy Holy.
Scott McLaren Trio
Scott McLaren Trio is a blues-rock trio from the Central Coast that was formed in 2015.
Playing mainly originals and some covers from bands such as- "The Jimi Hendrix Experience", "Cream" & "Led Zeppelin".
Fronted by guitar wizard & singer/songwriter Scott McLaren (Ra, Mothership, Hendrix Oz Experience) also featuring the musical talents of Craig Thomlinson (Stonefish, NFI) on Bass
& John Jessen (Damnation, Wisemans Circus) on Drums.
Our Brackets South event takes place on top beautiful Kincumba Mountain. The community built venue is a mud brick and natural timber building which sits in a bushland reserve, with panoramic views of Brisbane water and magnificent sunsets over the hills beyond.
This venue is the birthplace of Brackets and Jam on the Central Coast and the community considers it as it's spiritual home. The Mountain itself holds a strong significance for our Aboriginal community and has been a long-standing meeting place for Central Coast people. The rock outcrop situated in front of the kiosk forms a natural pool which is said to have once been a sacred birthing place for women. The Mountain now gives birth to many new beginnings as the hub of creative community arts in the southern Central Coast region.
Additional Information:
FINAL DRUM JAM: Stay late and see the evening out with the spirit of the dance and drum! Enjoy a little more space to dance to the powerful beat of the drum.
Adults $10.
Accompanied children under 16: Free
Meals $7 Plus healthy cakes & soft drinks, coffee, teas and chai