The brackets south crew proudly present another wonderful night of superb music, delicious food and friendly company on top of our beautiful Kincumba Mountain.
BYO everything or choose from another great selection of meals served by our lovely hard-working kitchen volunteers. Bring a friend, a smile, a blanket, a torch to light your way and treat yourself to what
Line-up for
7:30 pm: Jane Germain
8:30 pm: Eleanore Plummer
9:15 pm: First Drum Jam
9:30 pm: Top Cat
10:30 pm: Second Drum Jam
(House drums available for the jams!)
JANE GERMAIN
Jane Germain's musical journey has taken her from her hometown, Sydney, to Western Australia and all the way back to her Chinese heritage (her Manchurian great-grandmother married a Scottish missionary).
She's played all the styles from folk to funk, blues to bluegrass that express her emotions and musicality in a career that's won four consecutive WA Country Music Awards, Country Arts funded headline tours of regional WA, a residency in Beijing awarded by the Australia–China Council (where she collaborated with Beijing based traditional Mongolian musicians, Hanggai on her album, Chinese Whispers) and an invitation for her to represent Australia at the 2010 World Expo in China.
Jane has recorded 6 albums, as well as being in high demand as a session player on other projects.
Jane's musical career has been on hold over the past 2 years due to her battle with breast cancer, but she is now raring to go! Audiences and performers value live music – there is a flow on effect to people's health & wellbeing from engaging with live music as Jane has found herself – after her struggle with breast cancer, she hopes that her music sends a message of hope and courage to other breast cancer survivors.
Jane was happy to be presented with the Tasmanian Composers Festival - 2016 Song of the Year with her song, "Listen to What You Know" (from the album, No Fun Allowed)
Jane is proud to be invited to be a part of the great Banjo Babes International Ltd Calendar – 5th annual edition in 2018. She is the first Australian artist to be included and features as Ms May…
https://www.banjobabescalendar.com
Her new album, "Home on the Hill" has been receiving rave reviews and was awarded Independent Album of the Year at the Western Australian Country Music Awards in February 2018.

"Banjo playing sometimes gets a bad rap. But if you were ever in any doubt about the magic that can be woven by a couple of banjos (and a couple of amazingly talented players), you need go no further than this album. Together, Jane and Ian have crafted a gorgeous, fascinating tapestry of old and original new music, evoking laughter, tears and plenty of toe-tapping along the way. Amongst the album's many highlights, the heartfelt "Grandson of a Sailor" stand out, as do "Home on the Hill" and "I'll Meet You on the Outskirts of Town", along with "Too Much is Not Enough". "All Aboard the Maglev" is a killer instrumental inspired by a real trip, and for lovers of traditional music, "Big-Eyed Rabbit" and "Sleepy Eyed John/Cripple Creek" are shining examples of the craft. Other highlights include the wonderful gospel tune "The Wrath of God" and "The Girl from Daisy Dell". This album is full of amazing playing and singing, and simply exudes the joy of music. It's a wonderful musical journey."
MGM/SQUEAKYWHEEL003
SUSAN JARVIS
CAPITAL NEWS JUNE 2017

ELEANORE PLUMMER
After recently borrowing a car for a few months, Eleanore Plummer started singing along to albums on her drive to work each day.
Always enjoying singing but never quite being able to hit all the notes, it finally started to click.
She picked up her guitar that hadn't been played in years and had the urge to write her own songs.
They flowed like never before and she let go of any expectations.
Playing drum kit for 17 years in many different bands, across many different stages, Eleanore has experienced the stage hundreds of times before but never like this.
TOP CAT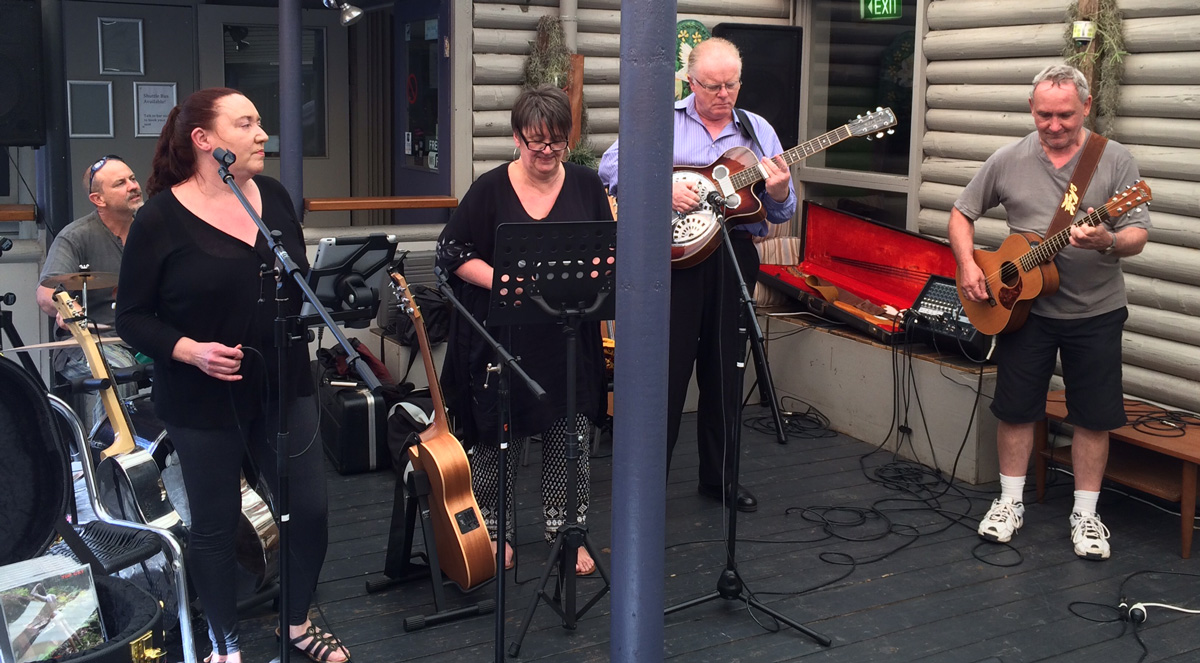 Top Cat was originally a duo formed by Jacky Hall and Andy Fox while they were both involved in now defunct Sydney band Whitebox Motherboard.
We vary between playing as a duo and as a full band with Michael "Blue" Dalton on slide guitar and Harmonica and joined by other talented musicians from time to time.
The music is an eclectic mix of originals written by Andy Fox and Geoff Eldridge with selected covers thrown in for a mix of style.
The overall sound is an upbeat pop/rock vibe.
Top Cat have released two albums, "Deadication" and "There's A Law Against That" both of which are available from online retailers and on CD.
Our Brackets South event takes place on top beautiful Kincumba Mountain. The community built venue is a mud brick and natural timber building which sits in a bushland reserve, with panoramic views of Brisbane water and magnificent sunsets over the hills beyond.
This venue is the birthplace of Brackets and Jam on the Central Coast and the community considers it as it's spiritual home. The Mountain itself holds a strong significance for our Aboriginal community and has been a long-standing meeting place for Central Coast people. The rock outcrop situated in front of the kiosk forms a natural pool which is said to have once been a sacred birthing place for women. The Mountain now gives birth to many new beginnings as the hub of creative community arts in the southern Central Coast region.
FINAL DRUM JAM: Stay late and see the evening out with the spirit of the dance and drum! Enjoy a little more space to dance to the powerful beat of the drum.
Adults $10.
Accompanied children under 16: Free
Meals $7 Plus healthy cakes & soft drinks, coffee, teas and chai